Alumni University
May 20, 2018

-

May 21, 2018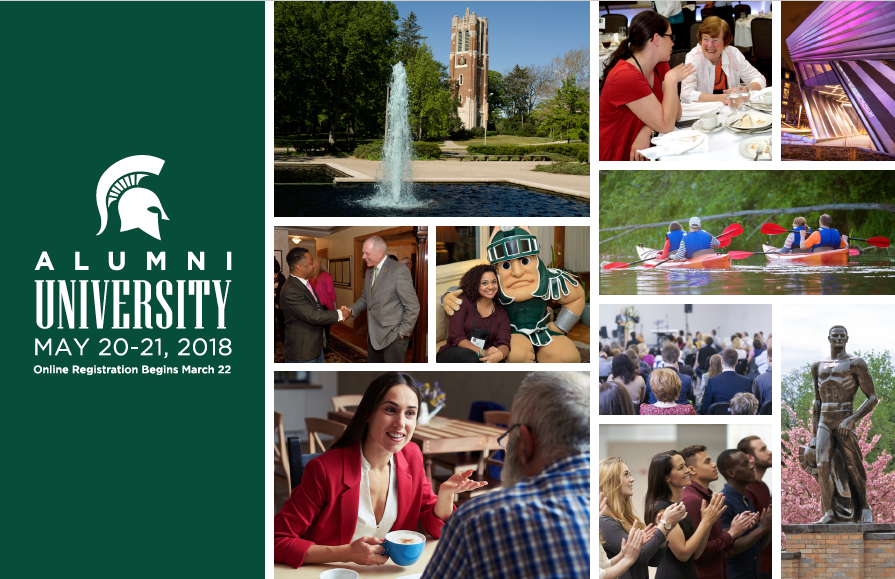 Spartans from the Class of 1993 and earlier are invited to attend Alumni University. This two-day educational event brings Spartans back to MSU to have fun, reminisce, and tour new sites on campus — all while learning from some of MSU's best educators.
This year, the Class of 1968 will be celebrating their 50th year post-graduation and will enjoy special recognition and gifts from the MSU Alumni Association!
ALUMNI UNIVERSITY INCLUDES
Opening reception at the Eli and Edythe Broad Art Museum (hors d'oeuvres and cocktails included)
A continental breakfast on Monday, May 21, hosted by the deans of multiple colleges
Tours of campus, new developments and projects
Choice of two educational sessions
Transportation between sessions
Closing reception at Cowles House (hors d'oeuvres and cocktails included)
OPTIONAL EXPERIENCES INCLUDE SESSIONS AND TOURS
Innovate Gov: Cultivating the Next Generation of Community Leaders
MSU Then & Now: Current Issues in Higher Education
From Aggies to Spartans: Object Stories and Storied Objects Tour
The Global Year of Africa: New Faces of African Research at MSU
Michigan State University: Advancing Michigan to a Place of Opportunity, Innovation and Prosperity
Building Citizens Through Music
The Entreprenurial Mindset at MSU
What is Microfinance?
Debunking Food Myths
Arts & Culture at MSU: Tour of Wharton Center
MSU Library Tour: From Rare Books to Virtual Reality, Gems of the MSU Libraries
Behind the Scenes at the FRIB Presentation and Tour
Creativity: How We Have It, Lose It, Why That's Bad, and How We Can Get It Back
Online registration is OPEN from March 22 – May 14. This site also has information on updates to the event schedule, available sessions, tours, parking and transportation details and local hotel accomodations.
To make a reservation by phone, or to request accommodation for persons with disabilities, please contact Amelia Turkette at (517) 884-1046.
Related Events