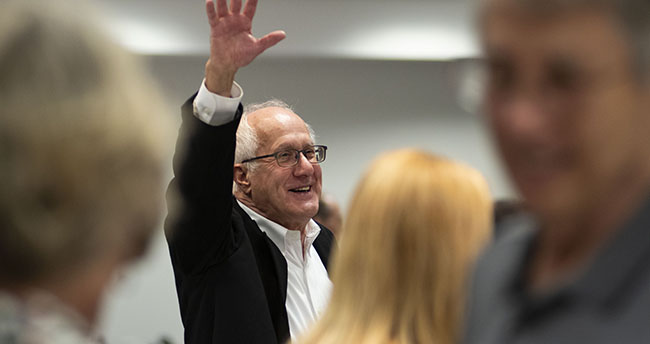 Richard Prawat brought passion, leadership to CEPSE for over three decades
"Once someone introduces you to Dick Prawat, you never forget him," said Joni Smith, his former assistant.
Richard "Dick" Prawat is known at once as a "hyper scholar" who thrives on big ideas, and a caring leader who supports the ambitions of every researcher, student and staff member.
He was the longest-serving chairperson of the Department of Counseling, Educational Psychology and Special Education (CEPSE), and a driving force for bolstering the caliber of its faculty and programs.
After receiving his bachelor's and Ph.D. at MSU, and 40 years as a Spartan faculty member—including 27 years as the CEPSE leader—Prawat will officially retire in September 2019.
Many of the faculty members he hired, and who are still on campus, recall how Prawat's fervor for the department struck them from the moment of their interview.
"I wanted to be part of a department with a leader whose commitment, creativity and passion would stimulate continual growth and renewal," recalled Cynthia Okolo, a special education professor. Her initial impressions have been confirmed repeatedly over 17 years on the faculty.
"[Dick has] a level of optimism, energy and advocacy that I have found rare in university administrators."
EXCELLENCE AND IDEAS
As Dean Robert Floden noted at a reception to honor Prawat in September 2018, "it's hard not to see how successful he has been."
For example, graduate programs in CEPSE have been highly ranked nationally by U.S. News & World Report since the 1990s. This includes, currently, rehabilitation counseling at #1 and special education at #12. Three programs, Measurement and Quantitative Methods (MQM), School Psychology, and Educational Psychology and Educational Technology (EPET), are all thought of as variations of educational psychology and contributed to MSU's current #7 national ranking in that area, Floden said.
Prawat helped elevate seven faculty members—who are known internationally in their fields—to positions as university chairs or distinguished professors, including William Schmidt, Yong Zhao, Floden, Mark Reckase, Barbara Schneider, Michael Leahy and Ken Frank.
The number, quality and diversity of doctoral candidates in CEPSE also grew dramatically during his tenure. One of them, Kevin Pugh, now a professor at University of Northern Colorado, was a Ph.D. student in Educational Psychology in the late 1990s.
"If one thing stands out about Dick, he loves ideas," said Pugh, who was part of a group with Prawat and MSU Associate Professor David Wong focused on the philosophies of educator John Dewey. All that time paid off, Pugh believes. His research program is still grounded in those ideas, with a focus on "transformative experience theory" to explain how students apply what they learn about science outside of school.
"I can't overestimate the impact Dick had on me and my academic career."
ONLINE CLASSES AND ROBOTS
Among the most notable achievements of Prawat's tenure have been the CEPSE department's pioneering efforts to expand how academic programs are offered to best serve students, especially for working educators and through the use of technology.
This started in the mid- 1990s when three courses from the master's degree program in Educational Technology (MAET) were offered in various sites off-campus. It exploded when those courses and soon the full MAET program, followed by the master's programs in special education, became offered fully online.
Under Prawat's leadership, the new influx of revenue from online programs was used to support and recruit outstanding doctoral students—and to explore innovative technologies with potential to enhance learning.
Robots now are a fundamental aspect of teaching for several CEPSE faculty members, who interact with students in-person and students participating remotely via control of a robot taking their place in class.
Prawat also stimulated the development of a hybrid Ph.D. program in Educational Psychology and Educational Technology (EPET) that is responsive to the needs of mid-career professionals who are unable to attend a full on-campus program.
AUTISM AND GLOBAL IMPACT
Serving the needs of learners with autism and intellectual disabilities has become a centerpiece of CEPSE, through faculty expertise and research projects across multiple program areas—including the addition of a master's in Applied Behavior Analysis and autism certification programs for teachers.
The Rehabilitation Counseling program partnered with the Daughters of Charity Service in Ireland to create the DOCTRID research institute in 2010, which now includes 20 universities across the U.S., Ireland and the U.K. working to improve life for people with intellectual disabilities. DOCTRID was the catalyst for creating a cross-disciplinary group of over 85 researchers now active on the MSU campus, the Center for Research in Autism, Intellectual and other Neurodevelopmental Disabilities (C-RAIND). Prawat attended the first DOCTRID meeting with Michael Leahy and signed the original Memorandum of Understanding for MSU.
Another example of Prawat's encouraging faculty to reach beyond borders is his own willingness, while chair, to serve as director of the Confucius Institute at MSU. During his five years in this role, he helped develop a Chinese language teacher certification program.
LEGACY OF LEARNING
Another thing that people may not know about Prawat is that he has always been appointed as a teacher education faculty member. He was part of the Institute for Research on Teaching (IRT) before shifting to CEPSE to take over its leadership in 1991.
"What I learned about working on teacher education reform with then-Dean Judy Lanier is what it really means when an institution says it is a land-grant institution," Prawat said. "We've got to always think in practical as well as research terms about how we are serving the people."
Faculty and staff say Prawat treated people with equal respect. In fact, one of his first acts as chair was to abolish a two-tiered system of teaching that viewed master's level teaching as service and doctoral level as more scholarly activity.
Sonya Gunnings-Moton, who now oversees urban education initiatives and recruitment of under-represented students in the college, shared that she learned some very powerful things from Prawat, going back to her days as a graduate student in counseling psychology.
"You taught me that I have a voice," she said at the reception. "You taught me what it means to have a passion for my field and the need to keep learning.
"It's a blessing to be one of the many seeds that you have planted, and that will endure long after you retire."
---
BETTER TOGETHER BY DESIGN
Distinguished scholar and Michigan State University Professor Cary Roseth was named chairperson of the CEPSE department in May 2018.