Social studies scholar Margaret Crocco has retired after five years as chairperson of the Michigan State University Department of Teacher Education (TE).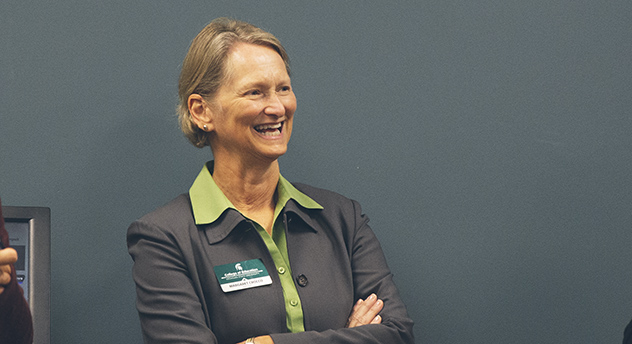 During that time, she helped grow the university's reputation in teacher education while also shepherding changes to meet shifting demands of the field.
For example, the MSU Teacher Preparation Program remains accredited and is working toward accreditation by the Council for the Accreditation of Educator Preparation (CAEP), a distinction that requires heightened evidence of ongoing program improvement and more coordination across different certification areas.
This spring, MSU was ranked #1 in the nation for elementary and secondary education by U.S. News & World Report for the 25th straight year, and it was also ranked #1 in curriculum and instruction for the first time.
In 2015, a team of teacher education faculty members were selected to edit the field's premier academic journal, the Journal of Teacher Education. The editorship, and a related blog called JTE Insider, is now in its second term and will continue into 2021.
TE is also home to the fully online Master of Arts in Teaching and Curriculum (MATC), a vibrant and diverse doctoral program—Curriculum, Instruction and Teacher Education (CITE)—and more than 40 tenure stream faculty. The faculty includes new hires in high-need expertise areas such as English language learners, as well as a large number of fixed-term faculty and academic specialists who contribute to the Teacher Preparation Program.
Streamlined efforts
Crocco spent one year as a visiting professor in TE before becoming chair.
"Margaret is very hard-working and has brought in ideas for how to streamline the work of the department," said Amelia Gotwals, co-chair of the TE Faculty Advisory Coordinating Committee. "For example, under Margaret's leadership, the department changed the annual review process in order to provide more helpful feedback for faculty on their professional trajectories."
Crocco said she has been committed to improving faculty mentoring, enhancing equity and diversity, and supporting faculty governance in which everyone contributes. That collaboration led to the creation of a shared Core Principles Statement to guide their work.
"We really have put in place a set of procedures and an organizational approach that, with the support of the Dean's Office, will allow for the department to continue meeting challenges while also doing the research that is a hallmark of our college," Crocco said.
Crocco was instrumental in facilitating a successful exchange program with Ministry of Education officials and educators from across Indonesia in 2015 and 2016. She also led the planning for a landmark conference in 2017, called Reimagining Teacher Education in Michigan, and its follow-up event on data literacy and assessment.
Her own scholarship in recent years has been supported by a grant from the Spencer Foundation, with colleagues, to examine civil political discourse in secondary classrooms.
She will continue to play a national leadership role when she becomes chair of the College and University Faculty Assembly, an affiliate group of the National Council of the Social Studies, in November 2019.
---
Welcoming a new TE chair
Dorinda Carter Andrews will assume the role of chairperson for the Department of Teacher Education on May 16, 2019. Carter Andrews is the first African American woman to lead the department in its history.