Roger Baldwin was recognized by the Michigan State University Faculty Emeriti Association for his outstanding contributions to the College of Education and the university since retiring in 2017.
Baldwin, formerly a faculty member in the Department of Educational Administration, received an Individual Award from the organization in April 2019.
Baldwin has remained active in the college and in his scholarship, including by serving on dissertation committees in the Higher, Adult and Lifelong Education (HALE) program and participating in a speaker series hosted by the Center for Higher and Adult Education.
At MSU, Baldwin has been involved in the Academic Advancement Network and AgeLive, a College of Osteopathic Medicine initiative for coordinating and facilitating age-related research, service and educational programming within MSU and the greater community. AgeLive was also recognized during the FEA awards for an Outstanding Contribution by an Academic or Support Unit for Creating Opportunities for Faculty Emeriti.
He also serves as the vice president for programs for the MSU Retirees Association.
Nationally, Baldwin continues his scholarly contributions as part of the board of the Association of Retirement Organizations in Higher Education and as a member of the Hiram College Board of Trustees and its Faculty and Academic Affairs Committee.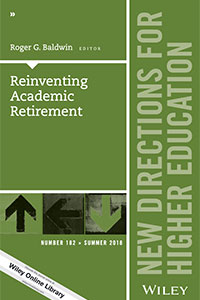 In 2018, he was the editor of "Reinventing Academic Retirement" (Wiley), part of the New Directions for Higher Education series. Utilizing insights from scholarly leaders, the book addresses a variety of topics, including strategies and structures of enhancing academic retirement to the benefits of increasing engagement of retired faculty and staff. Baldwin contributed to or was the sole author on four of the eight sections of the book, including a discussion on why reinventing academic retirement is necessary, and addressing who might be the leaders in the movement.
Baldwin was one of two to receive the Outstanding Contributions by an Individual Faculty Emertus/Emerita honor for 2018-19.
---
More from Baldwin
In 2012, Baldwin was featured in an article that explored emeritus status across the U.S. Most recently, in 2017, he was recognized by the Association for the Study of Higher Education with a Mentoring Award.