Lisa A. Reeves, an experienced university administrator, joins Michigan State University as chief of staff in the College of Education. Her first day is Dec. 4, 2019.
In this position, Reeves will oversee finance, human resources, facilities and technology functions for the college. She fills the role previously held by Assistant Dean R. Sam Larson, who has stepped down to work on a research study and other projects after five years in the position.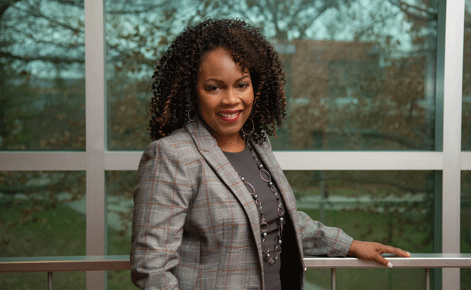 "MSU's College of Education has a reputation for being an institution that exemplifies excellence in higher education," Reeves said. "I feel privileged and humbled and I look forward to contributing my skills and talents to support the teaching and learning for all students."
Reeves comes to MSU with over two decades of administrative experience, most recently from Oakland University, where she worked for 13 years in the School of Education and Human Services. She served as chief of staff and assistant dean before directing the school's outreach, professional development and off-campus programs.
Prior to working at Oakland, she worked at Wayne State University for 14 years in the Office of the Senior Vice President for Finance and Administration and as finance manager for Student Development and Campus Life.
Reeves recently earned her Ph.D. in Educational Leadership from Oakland, completing a national qualitative study on African American women in senior leadership positions at universities and hospitals. She also has degrees in business administration and finance, and organizational development.
"Lisa brings notable experience overseeing finance, HR, facility operations and equipment in her previous roles," said Dean Robert Floden. "During her campus visits, she impressed people as knowledgeable, genuine, upbeat and committed to helping us make MSU a safe, caring and inclusive place. In short, she has what she needs to be a successful member of our leadership team."