There needs to be a greater emphasis on collaboration across home, school and physician offices when administering medications to treat mental health problems in school-aged populations, says a new book co-edited by Michigan State University Professor John S. Carlson.
"School Psychopharmacology: Translating Research into Practice" (Springer, 2019) explores the connections, or lack thereof, amongst doctors, educators and caregivers when it comes to student well-being. One of the problems for students who experience social, emotional and behavioral challenges is there can be siloing amongst various types of care—leading to treatments that are not evidence-based.
"This is a major public health issue," said Carlson, a professor of school psychology at MSU, a Health Service Psychologist, a Licensed Psychologist and a Nationally Certified School Psychologist.
"The three leading causes of death by unintentional injury, suicide and homicide in 15-24-year-olds are strongly connected to impairments in behavioral and psychological functioning," he continued. "In 2017, this was almost 25,000 deaths in the United States.* More attention needs to be given to how psychiatry, primary care, psychology, education and parenting may connect to better meet the needs of the whole student. We need to integrate systems of care, especially for our children who struggle with academic underachievement, depression, anxiety or conduct problems."
Take, for example, students who take medications that impact their mind, emotions or behaviors, such as Abilify, Prozac, Vyvanse or Concerta. How do these psychotropic medications interact in combination with psychosocial interventions—therapies and strategies aimed at improving the learning and social behaviors of children within schools?
Though school personnel implement school-based psychosocial interventions and physicians work closely with families outside of the school setting to initiate medication treatment, these approaches often are uncoordinated and rarely are treatment outcomes or side effects monitored collaboratively.
The co-editors use the book to show how coordination and integration across schooling and health could improve the quality of care. Using case studies with ADHD, conduct disorder, depression, autism spectrum disorder and more, the book pays special attention to treatment plans, targeted goals and behaviors for students and methods for stronger communication amongst family, doctors and school personnel.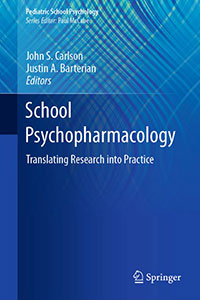 "As school psychologists, we consistently look for ways to improve the educational, social and psychological outcomes of all students," Carlson added. "This book will help combine efforts from scholars, practitioners and caregivers to help ensure we are meeting the unique and individualized needs of each and every student, especially those who are struggling in school and not responding effectively to school-based interventions."
Throughout the chapters—including one from Carlson, plus contributions from MSU students, alumni and child psychiatry faculty, along with other experts in medicine and psychology from across the country—the book expands on the impact of siloing practices and care, concerns about cost and methods for improving communication strategies across the spectrum.
Justin A. Barterian from Ohio State University served as co-editor for the book. Barterian earned his M.A., Ed.S. and Ph.D. from the MSU School Psychology programs.
---
Related news
In 2018, the doctoral program in School Psychology at MSU earned national accreditation from the American Psychological Association (APA) through 2027. Learn more.
---
*Statistics provided according to data from the Centers for Disease Control and Prevention, and the National Institute of Mental health. More information can be found on the National Institute of Mental Health website.
If you are in crisis, call the toll-free National Suicide Prevention Lifeline (NSPL) at 1-800-273-TALK (8255), available 24 hours a day, 7 days a week. This service is available to anyone. All calls are confidential.