Waiting for graduation doesn't mean waiting to make an impact.
A pair of Spartan entrepreneurs who have yet to graduate are among 18 young but proven innovators from across the country who were selected for a prestigious fellowship program.
Brianna Makaric, a kinesiology junior and an entrepreneurship & innovation minor, and Bailey Paxton, a finance senior, were chosen for the program offered by Future Founders, a nonprofit organization with a stated belief that every youth can become an entrepreneur.
"Bailey and Brianna are two wonderful examples of the hundreds of driven and energetic Spartans who are innovating, exploring and creating in our entrepreneurship & innovation program," said Sanjay Gupta, the Eli and Edythe L. Broad Dean of the Eli Broad College of Business. "We are confident that they are the leading edge of a flood of innovators who will define tomorrow's business successes."
Makaric is founder of BRITE bites, a probiotic snack company. "I am excited to begin working with the other fellows who are ambitious, like-minded entrepreneurs. This opportunity will allow me to take BRITE bites to the next level with the mentorship and programming offered," she said. "BRITE bites is quickly growing and I look forward to working towards scaling my company and learning so much more along the way."
Paxton is founder of AgileCare Solutions, which created an app that allows family and caregivers to manage tasks for and wellness checks of senior citizens still living at their own homes, allowing the latter to extend the time they can live on their own.
"I'm really excited and extremely honored to be a part of it. It's a really great program," Paxton said of the fellowship, adding that AgileCare is the fourth start-up he's created since starting college. He was encouraged on his path by his father, who is also an entrepreneur.
"My dad started letting me skip school in eighth grade to go to entrepreneur workshops," Paxton said.
The fellowship, now in its fifth year, is a year-long cohort for 18- to 30-year-old entrepreneurs aimed at accelerating the development of both the entrepreneurs and their businesses. Fellows receive mentoring, entrepreneurship retreats, a peer community and volunteer opportunities through Future Founders programs, according to the program's website.
"The 2019 Fellows are some of the highest potential young founders in the nation," Scott Issen, president & CEO of Future Founders, said in a prepared statement. "We are optimistic that this year's cohort will achieve milestones similar to our first three cohorts that generated $9.1 million in revenue, secured $3.3 million in capital and created 234 jobs."
Both Paxton and Makaric are members of and heavily involved with the MSU Hatch, a collaborative student startup incubator located in downtown East Lansing.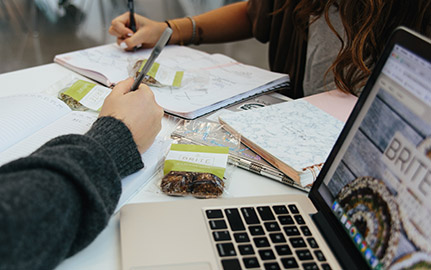 "From the MSU Hatch to Conquer Accelerator, our team is laser-focused on fostering and supporting a culture of entrepreneurship at MSU," said Paul Jaques, director of student and community engagement at Spartan Innovations, which oversees the MSU Hatch. "Brianna and Bailey are incredible student entrepreneurs and we couldn't be more proud to see them take their work to the next level."
Said Makaric: "The E&I program at Michigan State has set a foundation for my entrepreneurial journey by offering classes that are hands-on and very applicable to building a business. I am grateful for the faculty and staff who make this program so beneficial."
---
This post was written by Omar Sofradzija, communications manager for the Eli Broad College of Business.
---
Related links:
Makaric wrote for MSU Today on what it means to be an entrepreneur.
Bethany Kogut, a recent alumna from the MSU College of Education, is featured in the New Educator, sharing her insights on how she merged her passions for teaching and farming into her personal mission. Kogut is the co-founder and CEO of the first MSU-affiliated, student-run business, Land Grant Goods.