A new publication from Assistant Professor Donna Rich Kaplowitz provides strategies and best practices to conduct difficult dialogues about race within the classroom.
"Race Dialogues: A Facilitator's Guide to Tackling the Elephant in the Classroom" (Teachers College Press) is new in May 2019 and focuses on facilitating dialogues to help promote understanding, empathy and collaboration across different racial identities.
"Engaging in critical conversations about race in the classroom is something most educators do not have a lot of practice with, and yet is vital for creating inclusive classroom spaces and building culturally competent citizens," said Rich Kaplowitz. "We hope our book offers readers with the concrete skills they need to begin those conversations."
Rich Kaplowitz is part of the Department of Teacher Education and is a faculty associate in the MSU Office for Inclusion and Intercultural Initiatives. She has spent recent years focusing on building competencies and programs toward inclusive, equitable and transformative dialogue practices, such as the MSU Dialogues program and Intercultural Dialogues in the College of Education.
This book, with co-authors Shayla Reese Griffin and Sheri Seyka, TCRT '95 and MA '00 (Education), serves as a practical guide for current educators who are interested in facilitating difficult conversations or responding to hot moments in the classroom. The book also utilizes the author's own journeys and research to help outline some of the methods presented in the book.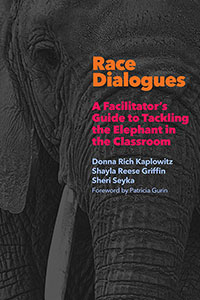 "It's the only book of its kind that introduces educators to both the skills necessary to facilitate difficult dialogues about race, but also provides concrete lesson plans with detailed activities," Rich Kaplowitz added.
Rich Kaplowitz hopes the book will serve as a reminder that though these conversations may not be easy, and though we may make mistakes, the conversations are important nonetheless.
"It is vitally important to have these conversations if we are going to end racism in our country," she said. "We hope our readers find the book to be a useful resource to immediately begin having difficult dialogues in their classrooms."
---
More on Dialogues programs at MSU
MSU Dialogues and the Intercultural Dialogues, programs developed in part by Rich Kaplowitz to help build teacher empathy and listening skills, are detailed in-depth in "Open Dialogues," (New Educator, 2018-19).