September 2019
In this talk, Martiale Dembélé will focus on a recent review of the use of contract teachers in 24 Sub-Saharan African countries, for which he, Professor Amita Chudgar, and Mrs. Isatou NDow (of the Gambia College) were tasked to provide scientific guidance and support, and to write the comparative synthesis report. The review was commissioned by the Secretariat of the International Task Force on Teachers for Education 2030.
Find out more »
Inviting all graduate students from Counseling, Education Psychology, and Special Education plus Teacher Education Departments to meet with GEU union to help with any questions you may have.
Find out more »
October 2019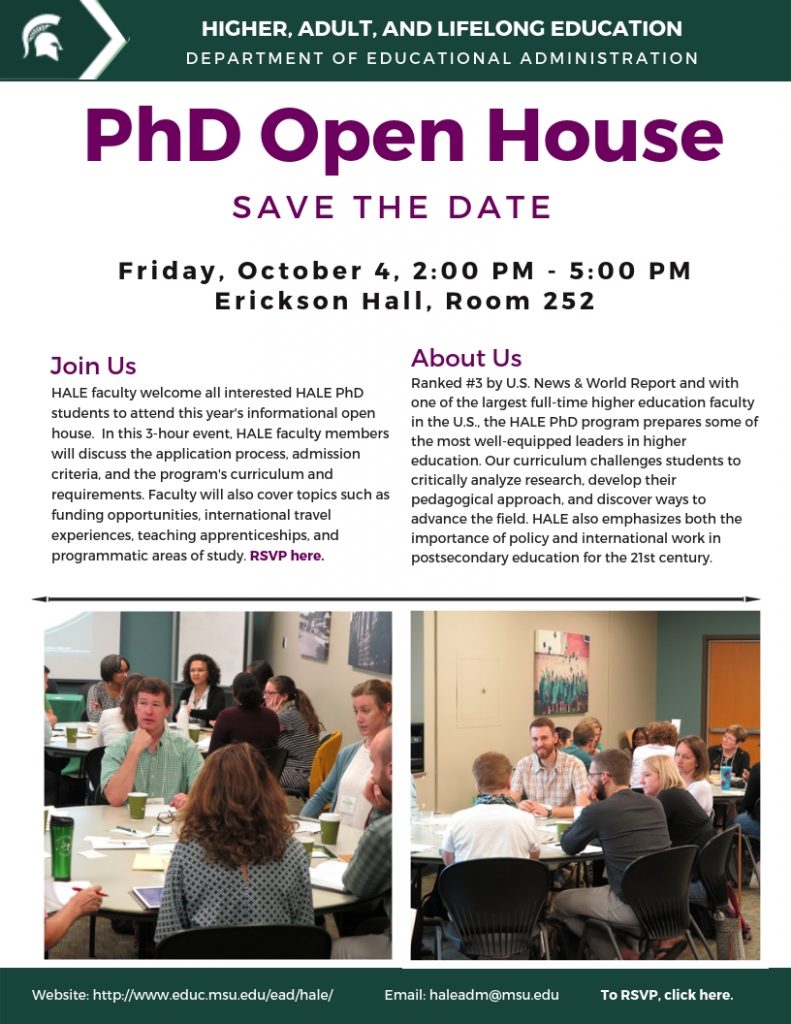 PhD Open House Friday, October 4, 2:00 PM - 5:00 PM Erickson Hall, Room 252 HALE faculty welcome all interested HALE PhD students to attend this year's informational open house.  In this 3-hour event, HALE faculty members will discuss the application process, admission criteria, and the program's curriculum and requirements. Faculty will also cover topics such as funding opportunities, international travel experiences, teaching apprenticeships, and programmatic areas of study. RSVP here. Ranked #3 by U.S. News & World Report and with one of the largest full-time higher education faculty in the U.S., the HALE PhD program prepares some of the most well-equipped leaders in higher education. Our curriculum challenges students to critically analyze research, develop their pedagogical approach, and discover ways to advance the field. HALE also emphasizes both the importance of policy and international work in postsecondary education for the 21st century.
Find out more »
+ Export Events